Ferntree Gully Forest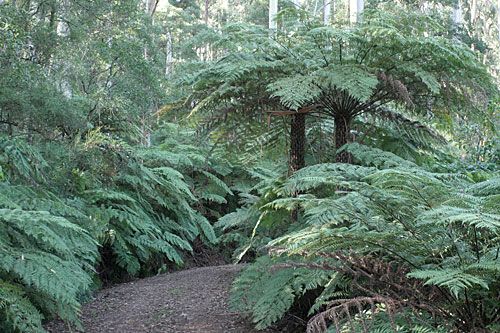 Walk overview
Length:
11.4km circuit
Time:
4 hours
Grade:
Medium
Ascent:
700m
Maximum height:
500m
Region:
Dandenong Ranges National Park
Map:
Melway maps 65, 74
"The forest near Ferntree Gully has always been a popular destination for a brief escape from the nearby city. First reservedin 1882, it became a national park in 1927 and in 1987 was merged with nearby Sherbrooke and Doongalla Forests into the Dandenong Ranges National Park. A network of walking tracks and closed fire management tracks penetrate the forest providing pleasant year round walking."
Source:
Day Walks Victoria
My comments
This was the first training walk in the lead up to the trip to Nepal that my friend Chris and I have planned for October. Neither of us is horribly unfit, but we certainly need to get fitter than we are now.
This walk was recommended by my team member, Guy, as a suitable first walk because we were unlikely to get lost. Guess what - we did! Not totally lost, and it didn't cost us any time as it simply meant that we'd walked the wrong way around the "Nature trail" at the start of the walk.
And it was a bit more arduous than either of us was ready for. I think it should probably have been graded medium to hard. The "Thousand steps" section--a set of 1000 slippery, uneven stone steps--had me stopping frequently to rest very weary muscles and catch my breath, occasionally feeling like my lungs were going to explode.
It was very pretty, though, with lots of ferns and greenery. The back section of the walk on access roads was less appealing and I remember grumbling quite a bit about having to walk up some long steady uphill sections.
My first outing in my trekking boots went reasonably well. I had a couple of sore spots, but no blisters.
My rating
Good. I'll need to be fitter before doing it again!
Photos from this walk

For more see:
Ferntree Gully Forest photo slideshow