Lerderderg East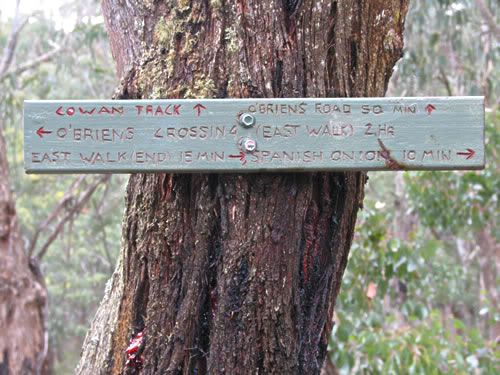 Walk overview
Length:
12.0km
Time:
4.5 hours (it tooks us 5 hours with a short lunch break)
Grade:
Medium
Ascent:
300m
Maximum height:
620m
Region:
Goldfields, Victoria
Map:
Meridien Productions 1:35,000 Lerderderg and Werribee Gorges
"The Lerderderg State Park was created in 1987 and its central feature is the 300m deep gorge carved by the Lerderderg River. The river has cut into and exposed beds of ancient sandstone and slate. Beside the river are thickets of grevillea, hakea and wattle with large blue gums and manna gums arching over the stream. Higher up the slopes the forest is much drier with stringybark and ironbark gum trees towering over open forest floors."
"This walk passes through all the major habitats in the park as it follows the river and returns along a high ridge. Some of the history of the area is evident with aqueducts and diggins from the gold mining era and the old vehicle tracks left from when trees were cut for sawlogs."
Source:
Day Walks Melbourne
My comments
We got off to a bad start with a flat battery that delayed our arrival at O'Brien's Crossing. We had two walk options that originally were dependent on the water level at the crossing, but given that I had to be home by 6pm, we had to opt for the shorter, 5 hour walk - Lerderderg East.
Just over half of the walk is along a track that runs alongside the Lerderderg River. It had rained the previous day and earlier that morning so the walking surface was quite slippery in parts - I managed to slip over three times! The track led us through lots of rocky sections, a short steep cliff climb and a very narrow, eroding ledge high above the river.
It took three hours to reach the end of the river section of the track, where we stopped for a short lunch break. The final part of the walk was along Cowan Track, an old vehicle track through fairly open forest. While not particularly interesting, at least it did give us a few short uphill sections.
My rating
Not bad, but I'm not all that keen on walking along vehicle tracks, so wouldn't repeat this walk in a hurry.
Photos from this walk

For more, see:
Lerderderg East photo slideshow