Boar Gully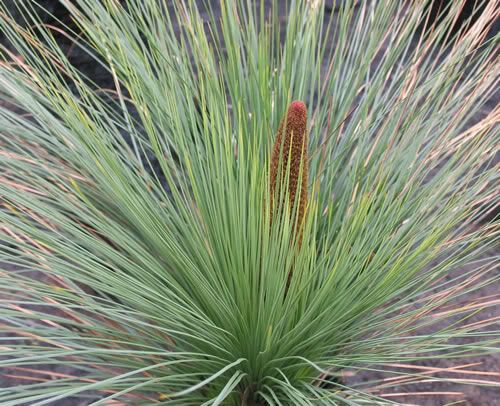 Walk overview
Length:
13.8km
Time:
5.5 hours (we took 5 hours, walking at a very leisurely pace)
Grade:
Medium
Ascent:
310m
Maximum height:
430m
Region:
Brisbane Ranges National Park
Map:
Bushmaps 1:50,000 Brisbane Ranges National Park
"The forests of the Brisbane Ranges National Park are among the richest wildflower areas in Victoria with over 600 species being recorded including many orchids. Common flowering plants are grevilleas, hakea, wattles and bush-peas. Nobody could miss the outstanding display of grass trees that form an extensive understorey for much of the walk. Late winter and spring is the best time to visit for the wildflower displays. Native fauna, too, is often to be seen including eastern grey kangaroos, wallabies, echidnas and koalas."
"The main landscape feature is the Rowsley Fault. This runs along the easter edge of the range and has created a plateau to the west which overlooks the plains that stretch towards Port Phillip Bay. Easy walking is available on old roads closed to vehicles and little used bush tracks."
Source:
Day Walks Victoria
My comments
A fairly easy, flat walk in pleasant environs. The wildflowers (we saw three kinds of wattle and pink and white bush-peas) were in flower, but did not give the kind of presence indicated in the walk description. The grass trees were superb. Lots of controlled burning over the past few months has given the place a slightly eerie feeling.
If you do this walk, don't park in any of the numbered parking bays in the Boar Gully camping area. These are frequently reserved by camping groups. Fortunately, we were still with the car when a group who'd booked the area we'd parked in turned up, so we were able to move out of their way.
A couple of map-related problems. First, we could not find any 'faint track' leading off to the right of Quarry Track and up to Thompson's Track, despite walking up and down Quarry Track three times and going off the trail a hundred metres or more trying to find it. Late when we walked along Thompson's Road we tried to locate the end of the mysterious track, but couldn't see anything obvious from that end either.
Second, we turned onto a track that was not marked on the map and ended up circling back onto a part of the track we'd walked in the morning. When you're walking along Old Thompson's Track, ignore the first turn to the left and go on to the next one to avoid this.
Photos from this walk

For more, see:
Boar Gully photo slideshow