Byers Back Track and Shaws Lake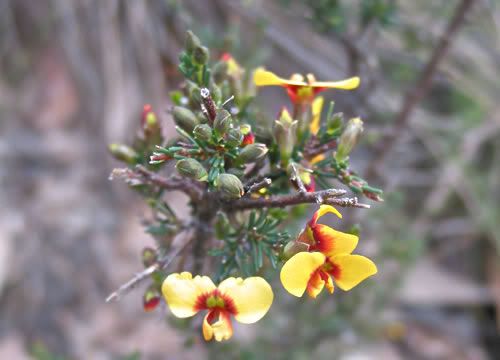 Walk overview
Length:
18.0km
Time:
7 hours (we took just over 6 hours)
Grade:
Hard
Ascent:
350m
Maximum height:
650m
Region:
Goldfields, Victoria
Map:
Meridien Productions 1:35,000 Lerderderg and Werribee Gorges
"In the 1850s gold rush miners scoured the hills and valleys around Blackwood searching for the elusive metal. While not as ruck as other gold fields, the Lerderderg River contained some gold, and miners cleared the forest and dug over extensive areas. After the gold rush the forest regenerated and covered many of the mining areas. The most visible mining remains are the aqueducts that carried water from the river to the mining areas. The water was used to separate the gold from the gravel and dirt."
"One of the longest remaining aqueducts is Byers Back Track. The level walking track starts above O'Briens Crossing and follows the Lerderderg River valley north-west towards Blackwood. This walk then enters Blackwood, passes Shaws Lake which was constructed to store water for mining operations, then follows a long ride to The Tunnel. This narrow slot was cut by miners to divert the river so that they could scour the river bed for gold. This diversion of the Lerderderg River has become permanent."
Source:
Day Walks Melbourne
My comments
A longish, but otherwise easy walk on mostly level tracks. The Tunnel is amazing and certainly worth a visit to see.
I had another couple of slips and falls today. It seems the Lerderderg has it in for me, as it's the only place where I've managed to end up on my backside - and several times at that!
Another map-related problem. The right turn at the 6.1km mark on the Melbourne Day Walks map is described in a slightly confusing way. If you do this walk, don't turn right at the wide track here. Walk up the hill in front about 10 metres and then turn right where the aqueduct track begins again. The very obvious track to the right is not marked on the map (or on the Meridien map).
Photos from this walk

For more, see:
Byers Back Track photo slideshow