Lake Mountain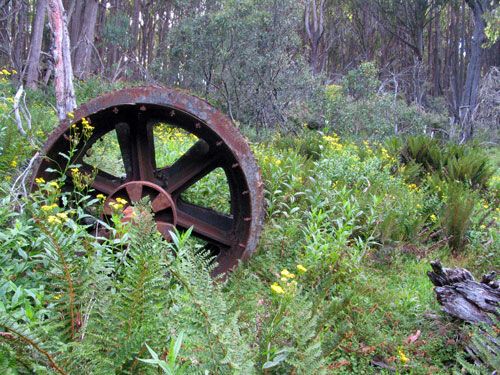 Walk overview
Length: 20.5kmTime:
7 hours
Grade:
Medium - Hard
Ascent:
560m
Maximum height:
1476m
Region:
Yarra Ranges, Victoria
Map:
VICMAP 1:30,000 Marysville - Lake Mountain
"This somewhat longer walk provides an opportunity to see the best that Lake Mountain has to offer. Enchanting forests of alpine ash and myrtle beech, crystal clear streams, the headwaters of the Taggerty River, a bush hut and alpine snow gum forests are some of the delights to be found. Suited to most seasons except winter, the region is at its best in late spring and early summer when the wildflowers bloom."
Source:
Day Walks Victoria
My comments
This is a really lovely walk. The forests are beautiful and the vegetation and track style changes throughout--from 4-wheel drive tracks to begin with, to slim and often overgrown walking tracks in the middle, to wide, green cross-country skiing tracks at the end of the walk--making the walk interesting and varied.
We managed to get lost, or rather, we could not find the Gould No. 2 track leading to Keppel Hut. We weren't the only ones who were meticulously scouring the right-hand side of Taggerty's Track looking for it. In the end, we approached the hut from the north (instead of south) via Keppel Hut track, probably having tacked on a few extra kilometres to an already quite long walk (and consequently we finished in 8.5 hours, rather than 7).
Fortunately another walking group spotted the track from Keppel Hut that we should have walked in on, and were scheduled to walk back out out on. This led us to the second and eastern stage of the walk via Boundary Track and Echo Flat.
We had a further problem with the map (or perhaps the signage on the walk) after completing the Hut Track loop where we were supposed to be walking out on Boundary Trail East to the left of Panorama Track, but ended up walking on Panorama Track to find the Crossroads.
The ligaments on the sides of my right knee starting getting sore just past the halfway mark. I was quite frustrated by this, since it has mainly been my left knee causing problems until recently. It held up until the last kilometre, when my left knee joined in on the conspiracy to make the last stage of the walk agonising. Again, I found myself having to walk down a slope backwards! It was the only way of dealing with the excrutiating pain. Argh!
The best part of the walk were the gorgeous alpine snow gums. Tall, colourful, and shapely, they were the ultimate tree-hug-inducing trunks. So beautiful! Other highlights were the lookouts and huge fallen trees that we had to scramble over (it's even nice hugging fallen giants).
My rating
A great walk that I'll definitely repeat again some time.
Photos from this walk
For more, see:
Lake Mountain photo slideshow