Sherbrooke Forest - a third visit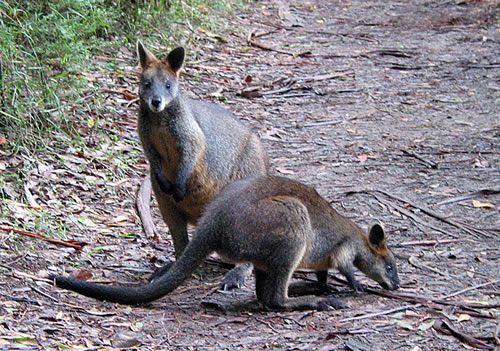 Walk overview
Length: 11.5kmTime:
4 hours
Grade:
Medium
Ascent:
480m
Maximum height:
490m
Region:
Dandenong Ranges, Victoria
Map:
Melway 75, 124
"One of the most popular forests in the range is Sherbrooke Forest. From the 1850s until 1930 this forest was used for logging. In 1958 Sherbrooke Forest was declared a park and in 1987 was merged with other areas to form the Dandenong Ranges Natonal Park."
"Sherbrooke Forest contains some of the finest examples of towering Mountain Ash in this region. These are the world's tallest flowering plants growing to more than 100m in height. Many of the trees in Sherbrooke sprouted after a severe fire in 1926. Below the tall trees in an understorey of treeferns, wattles and shrubs. Birds are proflific with many treecreepers and parrots. The first is also home to the superb lyrebird which searches the forest floor for insects and grubs. This large bird is able to mimic most sounds and is commonly heard imitating other birds and man-made noises. It is sometimes seen crossing the tracks."
Source:
Day Walks Melbourne
My comments
This is the third time I've done this walk. Mon and I were walking without someone with a better sense of direction, so we thought we'd do a walk we knew well. For a change of pace, we did the walk in reverse of that described in the book. It's amazing how different things look walking in the other direction!
We got off to a great start, finding a couple of wallabies on the trail within minutes of starting out. They weren't too shy either, and let us get up quite close before scampering off into the bush. But we didn't see any lyrebirds this time.
It was perfect weather for a walk, and the trail wasn't too muddy or slippery considering the heavy rain we've had recently.
I hadn't been hiking for two months prior to this. I hadn't been to the gym either, so my lower level of fitness was quite noticeable and I found myself huffing and puffing a little on the uphill sections. My knee didn't fare well either, starting to get painful just over halfway through the walk. However, it held out without my having to resort to walking backwards. Just as well, since I left my walking poles at home.
My rating
A lovely walk that I'm sure I'll repeat again.
Photos from this walk
For more, see:
Sherbrooke Forest photo slideshow