Nelly Bay to Arcadia, Magnetic Island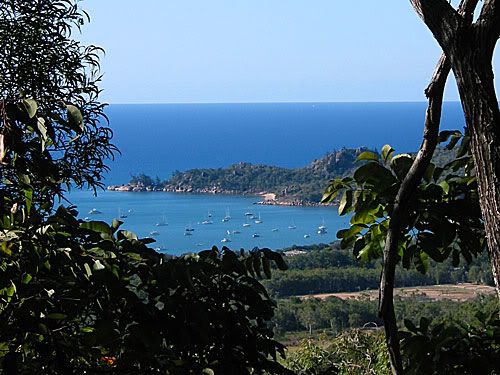 Walk overview
Length:
6km
Time:
2 hours
Grade:
Medium
Region:
Townsville, Queensland
"This track passes through a cool patch of rainforest, then alongside Gustav Creek up a steady climb to the saddle of the ridge, with Nelly Bay on one side and Horseshoe Bay on the other. Many birds and wildlife can be seen, and at the right time of year, bush orchids. Continue along the ridge through open eucalypt forest to an excellent view of Horseshoe Bay."
Source: Magnetic Island Guide
My comments
I was in Townsville on business, so decided to take the opportunity of a short walk - my first in several months. I felt quite unfit struggling up to the saddle, but the views were fabulous. My knee held out on the steep parts of the downhill, but was starting to get sore by the end of the walk.
My rating
Not a bad walk. I'll come prepared with boot and do a longer one next time.
Photos from this walk

For more, see:
Magnetic Island photo slideshow